Regular price
Sale price
$20.00 USD
Unit price
per
Sale
Sold out
PLEASE READ ENTIRE POST BEFORE PURCHASING!
QUESTIONS? CALL 401-589-1790
You may also buy this item on eBay
SEE INSTRUCTIONS BELOW FOR DELIVERY OF YOUR NEW COLLECTIBLE!
PLEASE READ ENTIRE POST BEFORE PURCHASING!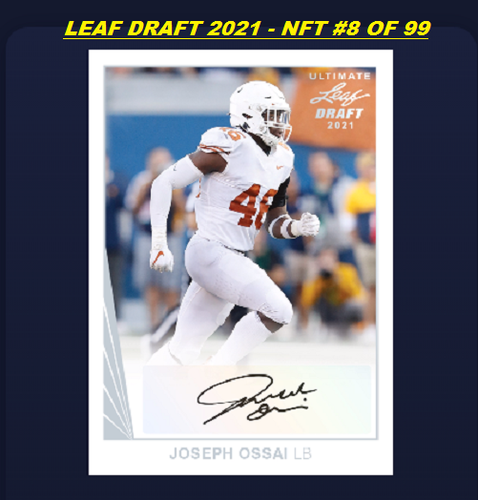 Digital Collectible! 
Collection: Leaf Ultimate 
Series: 1
Edition Number: 8 of 99 produced
ANNIMATED: Yes, Signature.
LOW MINTAGE!
Other Details:
1991 Leaf Rookie card from 2021 Leaf Ultimate Draft Football (the digital signature on this card is for decorative purposes and is not a unique authentic signature)
name Joseph Ossai
cardid 84742
subset 1990 Leaf
rarity Silver
description 1990 Leaf card from 2021 Leaf Ultimate Draft Football (the digital signature on this card is for decorative purposes and is not a unique authentic signature)
release_date December 2nd, 2021
series 2021 Leaf Ultimate Draft Football
position Linebacker
team Cincinnati Bengals
college Texas
legal Copyright © 2021 Leaf Trading Cards, LLC
Purchasing instructions:
1. Purchase Item here at this link on eBay.
2. In "Note to Seller at Checkout, please include your Wax Wallet Address, if you forget or need to get an account, please message me through eBay messaging with your account information.
3. Once payment is cleared and we have your Wax address, we will transfer your new collectible NFT to your account.
Thank you for your business!
=================================================================
You must have a WAX Wallet account in order to receive this card. 
Signing up for a WAX Wallet is free, secure, takes about 30 seconds and only requires your email. 
Go to: https://wallet.wax.io/ 
to sign up if you don't already have an account. 
If you have an account:
Please send me your WAX Wallet address for transfer. It ends in .wam
Please try to use "Note to Seller" at checkout to put your address in, if not, please message me here on eBay.
If you are opening an account:
Once your account is opened, your wallet address is on the right hand side at top, it ends in .wam.
Please send me your address via eBay messaging.
SEE MORE DIGITAL COLLECTIBLES>>>
What is an NFT?
Digital art was an early use case for NFTs, because of the ability of blockchain technology to assure the unique signature and ownership of NFTs.[13] The digital artwork entitled Everydays: the First 5000 Days, by artist Mike Winkelmann (known professionally as Beeple), sold for US$69.3 million in 2021.[7][14] This was the third-highest auction price for a work by living artist, after works by Jeff Koons and David Hockney, respectively.
Another Beeple piece entitled Crossroad, a 10-second video showing animated pedestrians walking past a figure of Donald Trump, sold for US$6.6 million at Nifty Gateway in March 2021.
Curio Cards, a digital set of 30 unique cards considered to be the first NFT art collectibles on the Ethereum blockchain,[17] sold for $1.2 million at Christie's Post-War to Present auction.[18] The lot included the card "17b," a digital "misprint" (a series of which were made by mistake)
Some NFT collections are examples of generative art, where many different images can be created by assembling a selection of simple picture components in different combinations.
What Makes and NFT Worth Money?
Although it is not a "physical" collectible. NFT art and other collectibles can have significant  value in low series release, one of a kind or by edition number, even in common released NFT's. Your best bet is to do some research, find out if it is for you, and proceed from there! You can purchase items based on edition number, or if you want to get started, some only cost a few cents, a small risk in todays world! Good luck!
Share
View full details